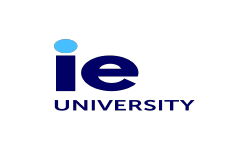 IE (Instituto de Empresa) was founded in Madrid, Spain as a graduate professional school in business and law in 1973, born with the purpose to foster an entrepreneurial, innovative and sustainable environment through its multiple programs.  Over the years, IE established multiple international partnerships with other universities such as a dual MBA with Brown University and an Asian-focused program run with Singapore Management University. IE University opened to undergraduates in 2006.
In 2021 we opened our third campus, the IE Tower located in the heart of the financial district of Madrid. This tech-based urban vertical campus of 180m is a bastion of sustainable architecture as well as a vibrant ground for innovation and entrepreneurship. The IE Tower joins our campuses located at the historic building of the Convent of Santa Cruz la Real in Segovia, and in the Madrid city center on Maria de Molina.
We host 140 nationalities of students, and teach an array of programs from Law to Architecture, all founded on our core values: innovation, entrepreneurship, diversity and humanities. Which allows us to provide the best service possible to our students, faculty, alumni and to society as a whole. All while fostering a sustainable approach across the board in everything we do.
With academic rigor and high-quality teaching, IE University is committed to educating professionals recognized around the world by the most prestigious associations and who will make a difference to society.
Contact email: [email protected]