Kristy Faccer is the first Director of the University of Toronto's Presidential Advisory Committee on Environment, Climate Change and Sustainability (CECCS).
The CECCS has the ambitious mandate of transforming how the university and its partnerships contribute to sustainability. In some ways, this position is a bit of a homecoming for me as I started my career near Toronto and recently returned to Canada after living and working internationally for many years. I enjoy exploring new places, being outside and spending time with my colorful little pugs.
Big Idea(s) for Advancing Sustainability in Higher Education
Is there one thing you know now that you wish you had realized five years ago related to your work?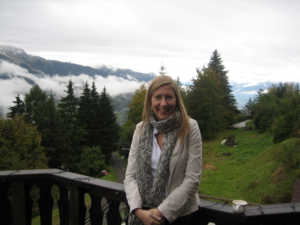 That the turn in universities towards institutional sustainability and leadership on climate could translate to 'hybrid' roles like the one I'm currently in. Most of my career has involved navigating the liminal waters between knowledge and action so that I could stay close to both. More and more, I find that universities are investing in people, partnerships and processes that benefit from experience in both research and practice, including on issues like climate change and sustainability. This is a promising development for universities and for their students who are looking for meaningful jobs that don't limit their future career choices.
Leadership and Inspiration
What does excellent leadership look like to you?
I admire leaders that listen, are open to learning, and that lift the people up around them. I appreciate leaders that express humility and humanity and that have a good sense of humor.
Tenacity and Perseverance
The Climate Emergency we face feels like the greatest challenge of our lifetime – what keeps you inspired?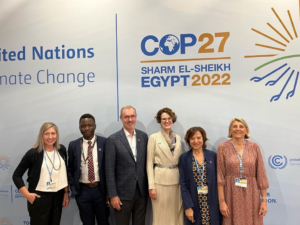 I'm inspired by the leaders and the everyday heroes that are fighting for climate at the coal face, despite so many other challenges in society and in their own lives. I'm inspired by those that chip away (and sometimes blast through!) that which seems impenetrable. I'm inspired by those that mobilize for change and find renewed motivation in examples and developments that seemed impossible at earlier points in my career.
Fun Fact
What is a job that you have had that would surprise your colleagues?

For a few years, I worked for  the International Union for Conservation of Nature (IUCN)  as a Global Advisor on a project being delivered in over twenty countries and triple that number of regional business, government, and community partners around the world. My task was to work with fit-for-purpose local and global team members on what are now called nature-based solutions.  The project was very much ahead of its time in connecting decision-makers to climate and biodiversity solutions that also contributed to local resilience and social and economic wellbeing. More than ten years on, I still find many of the lessons and experiences that came from that project relevant to the challenges we continue to grapple with today.