Julie Newman PhD is the founding Director of Sustainability and lecturer with the Department of Urban Studies and Planning, at the Massachusetts Institute of Technology.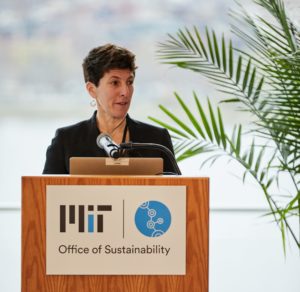 In 1995 Julie returned from Guatemala where she served as an environmental management Peace Corps volunteer and enrolled in graduate school to explore and develop a deep understanding of sustainable development, which was still a new concept at the time. She worked for the University Leaders for a Sustainable Future as a graduate assistant and then joined the University of New Hampshire to assist with the launch of the Office of Sustainability in 1997.
From there Julie headed to Yale University in 2004 to launch the Office of Sustainability where she also held a lecturer role with the School of Forestry and Environment.  While at Yale she founded the Northeast Sustainability Consortium which is still active today. In 2013, Julie moved to MIT as the Founding Director of Sustainability and launched their inaugural Office of Sustainability.  She has since built a program that includes 9 staff [as of FY23], 2 Faculty Fellows and 12 student research assistants. Julie was an inaugural member of ISCN representing Yale University at the time.
Big Idea(s) for Advancing Sustainability in Higher Education
What does the world need most right now?
We must look beyond ourselves and embrace and acknowledge the interconnectedness and the impact that our lifestyle choices, organizational systems, and regulatory structures upon which we depend have on the state of the world today.  Secondly, we are embedded in systems that warrant different scales of solution development and must consider and develop a deep understanding of our actions at the level of the: individual-the campus [for those of in higher education institutions]-the city-the state/territory-the country-and in the globe.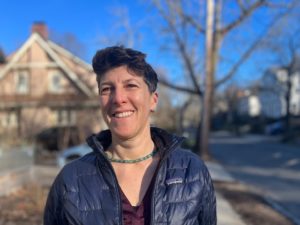 Leadership and Inspiration
What does excellent leadership look like to you?
Excellent sustainability leadership calls for deep humility, open collaboration and transparency, and a willingness to not be credited for the success. A desire to find common ground with those you may not see eye to eye. Additionally, sustainability leadership calls for a need to work across disciplines and expertise that are not your own and calls for us to act decisively to pull the multiple perspectives together to inform our understanding of the complexity of the challenge and the potential solution. Excellent sustainability leadership calls for developing a team that compliments your strengths and a willingness to solicit and learn from different perspectives.  Excellent leaders create space for ideation and listening to empower others to lead the way and developed a sense that the community is in this together.
Tenacity and Perseverance
The Climate Emergency we face feels like the greatest challenge of our lifetime – what keeps you inspired to keep working at it?
I carry a deep sense of responsibility to both as an individual and as part of a collective, solve for a net zero future with the greatest of integrity and urgency.  I continue to experience how solving for a net zero future enables the creation of new multi-disciplinary partnerships and provides common ground between unique individuals.  I am continuously inspired by those I am surrounded by who are equally committed to strive and solve for a net zero future which provides a deep sense of hope that we will figure this out, even in times of despair. At MIT I co developed a course with a faculty member from Mechanical Engineering, entitled "Solving for Carbon Neutrality" and each Spring we work with a multi-disciplinary group of remarkable students, who become trained in both carbon accounting and Net Zero scenario planning.  Developing that space to study, analyze and plan in a learning environment provides new angles on a familiar challenge.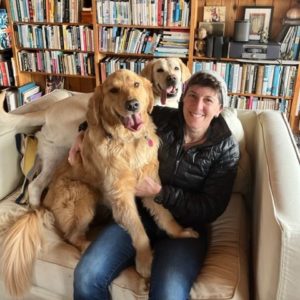 Fun Fact
What book is a must-read and why?
Coal, by Barbara Freese, is a must read by those of us attempting to mitigate and plan for a net zero world.  Coal provides the historical perspective on the emergence of our dependency on an energy system that fueled our homes, our economy and our industry while also fueling systems of injustice, economic disparity and a public health crisis.  We must understand the lessons learned and opportunities sought over the 800 year period we have relied on coal to inform how we transition and transform our energy sector today.