The Edinburgh Earth Fellows Program, an initiative of The University of Edinburgh, brings together students from across the academic spectrum to work on a range of climate and sustainability projects created in collaboration with university-wide academics and partners. This semester,  Postgraduate Earth Fellows Christelle Kwizera and Sophie Zych-Watson will be working with ISCN to support strategic planning in membership development, funding, and sponsorship. Through this collaborative effort, The University of Edinburgh and ISCN are demonstrating their commitment to driving positive change and fostering the next generation of sustainability leaders. Our thanks go to Dave Gorman for funding and Matthew Lawson for organising these positions.
Christelle Kwizera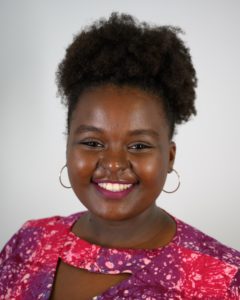 What are you studying/what is your research?
I am currently a Master of Science student, studying Climate Change Finance and Investment. I am planning to do a dissertation on the current scale and credibility of carbon credits from water projects in Sub-Saharan Africa.
Why did you want to become an Edinburgh Earth Fellow?
When I applied to The University of Edinburgh, I was excited about what the University was doing with sustainability and climate change. On arrival to campus, I realized there were many more initiatives than I initially thought. I wanted to be part of the vibrant community making it happen and the Fellowship offered a way to do this while delivering an actual project that would be useful. As I am only here for one year, the fellowship is a great way to building great connections with others in the field.

What do you hope to do with your career in this field?
I hope to get better at channeling climate finance to initiatives that need it, especially in Less Developed Countries (LDCs) and in currently under-funded adaptation sectors, such as water.
Given your work to date with ISCN, what has stood out to you about the network?
I have been amazed at the scale of commitment that ISCN members have when it comes to building sustainable operations in all they do. I keep getting wowed by the different initiatives and projects I get to learn about. The ISCN membership has clear value-aligned members, and I think it will be a great partner to new universities wishing to scale up their sustainability efforts.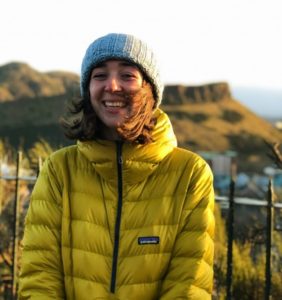 Sophie Zych-Watson
What are you studying/what is your research?
I am currently studying for a Master's degree in Outdoor Environmental and Sustainable Education. My emerging research focus is on place-based learning for marine sustainability among coastal communities in Scotland. I am also developing technical skills and working towards qualifying as a Mountaineering Leader. Following my degree, I hope to contribute to Scotland's emerging green sector and address environmental issues through meaningful education initiatives that brings the outdoors into the classroom.
Why did you want to become an Edinburgh Earth Fellow?
I became an Edinburgh Earth Fellow as I wanted to direct my career focus towards working more closely with climate change adaption and sustainability. Thus far, my career has been focussed in the charitable sector, funding outdoor therapy and development for vulnerable individuals. Through working with the ISCN and the Edinburgh Earth Initiative, I am able to combine my existing funding experience with my current research towards actively working towards a more sustainable future in educational settings.
Working with ISCN through the Edinburgh Earth Initiative has also enabled me to engage with a range of academics and professionals across multiple disciplines. This has given me so many opportunities for shared learning and shared best practice, which has massively enhanced my personal development.
What do you hope to do with your career in this field?

Ultimately, I hope to combine my various professional and academic strands together in a meaningful way to contribute to active climate change mitigation both in Scotland and internationally. I would love to set up my own business working towards sustainable marine practices on the west coast of Scotland, but in the meantime, I hope to continue to engage with organisations, such as ISCN, who are directly engaged in promoting sustainability.
Given your work to date with ISCN, what has stood out to you about the network?
My current studies have emphasised the importance of a social justice approach to environmentalism, and an attentiveness to the different privileges or disadvantages that are faced when moving towards Net Zero and a sustainable future.  ISCN's initiative to leverage the international collective knowledge of member universities with localised issues on the ground in Latin America through the ISCN Latin American Chapter (ISCN-LATAM) particularly stands out in this regard. For me, a commitment to understanding the complex social and environmental challenges that exist in different contexts is important and critical if we are to generate impact in universities around the world.