Ana Margarida Costa is the Head of Sustainability at King Abdullah University of Science and Technology (KAUST). She is Portuguese and has lived in Saudi Arabia since 2016.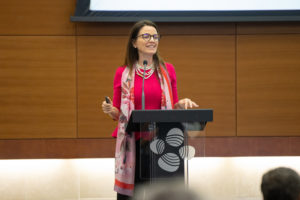 Big Idea(s) for Advancing Sustainability in Higher Education
What does the world need most right now? 
Science has undoubtedly shown us that we need immediate and pragmatic action to prevent the overshooting of Earth's planetary boundaries. The world needs bold leadership to challenge the status quo and drive transformative change to tackle the climate, social and economic crises. The triple planetary crisis of climate emergency, pollution and biodiversity loss will most likely exacerbate the already existing pressures on society and the economy. The world needs to be united in one voice to turn the challenges into opportunities and drive real and effective action. Prioritizing nature and investing in research and innovation are key to this pivotal transformation.
Leadership and Inspiration
What is the best advice you have ever been given?
In the face of adversity and probably insuperable challenges, never give up. There is always an unthinkable solution ready to be discovered.
This is a piece of advice from my mentor and PhD advisor that helped me endure complex challenges and build resilience during my academic and research journey, and which I've kept in the last 20 years in my role to advance sustainability in the different organizations that I've worked with. Exercising creativity is inherent to the path to sustainability. There is no one-size-fits-all solution; We need to adapt the approach and solutions for sustainability to each organization and country's local circumstances and reality to be able to progress and succeed.
Tenacity and Perseverance
The Climate Emergency we face feels like the greatest challenge of our lifetime – what keeps you inspired?
The energy and courage of the young generations in advocating and leading the needed transformational change of our society for a more sustainable planet. Every day, I see the passion and the commitment to building a better world by the group of graduate students at KAUST that I'm mentoring. They are trailblazers and true change makers and a real inspiration to believe that there is hope for a global net-zero future.
Fun Fact
What is your favourite activity in your spare time?
I'm passionate about martial arts. I started karate when I was 14 years old and in the last few years, I've been practising kickboxing and Muay Thai. It helps me improve my mental strength, sharpen focus, and increase concentration. When I finish my training, I always feel re-energized and ready for the next challenge.