Universidad Hemisferios (UHE) is a private, non-profit institution founded in May 2004 that focuses on training professionals to transform society, in an ethical, humanistic, innovative, ecological and research environment.
Following the strategic model, in 2021 the UHE obtained its EFQM certification (4 stars) of quality and excellence. The same year, the IDE Business School was accredited as part of the MBA's association.
UHE is currently part of the International Sustainable Campus Network, the Global Compact (and its Ecuadorian network), the University Global Coalition and the United Nations Academic Impact. Since 2019 it is part of the UI GreenMetric World University Rankings.
UHE has a 2,160-hectare biodiversity reserve in Cosanga, Napo province in the Ecuadorian Amazon, where an experimental campus is being planned. UHE main campus is located in Quito, and also has one in Guayaquil (IDE Business School).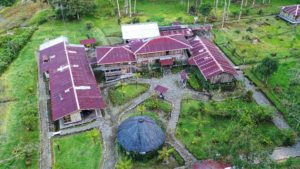 Commitment to sustainability
UHE imprints in its different lines of action a humanist sustainability approach that goes beyond the social role and responsibility it has in teaching and in the production of knowledge for society's development. From this perspective, the University promotes a culture that prioritizes the well-being of its students, collaborators, and the community; as well as the care of nature and the planet.
UHE's commitment is reflected in the constant search for a positive change in the way in which the teaching, research, community outreach and management processes are developed; promoting that the impact and contribution to sustainability offers a differentiating value for society. This vision of university social responsibility is embodied in the Sustainability and Shared Value Policy that guides institutional actions.
Contact
Daniel Barragán
Director, Centro Internacional de Investigaciones sobre Ambiente y Territorio
[email protected]
Web and social media
Web: https://www.uhemisferios.edu.ec/sostenibilidad/
Facebook: https://www.facebook.com/CIIAT.uhe
Twitter: https://twitter.com/ciiat_UHE