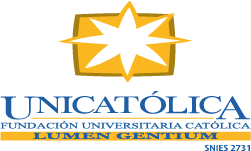 The Lumen Gentium Catholic University Foundation (Unicatólica) is an institution of higher education, of common utility, non-profit, with legal personality granted by the Ministry of National Education, through Resolution No. 944 of March 19, 1996.
In 1996 Monsignor Isaías Duarte Cancino conceived the idea of founding an institution of higher education aimed at generating higher education opportunities at the technical, technological, professional and postgraduate levels for students of good academic performance, who wanted to start higher studies, but who lacked the economic conditions to do so. This dream came true in 1996, with the creation of the Lumen Gentium Catholic University Foundation (UNICATÓLICA), which, being faithful to its commitment to Christian values, defines as its mission "to form people in an integral way, reaffirming their human dignity, in the relationship with God, with themselves, with others and with the environment, through the generation and dissemination of knowledge, to contribute to the development of the nation".
25 years later Unicatólica has about 6,000 students in eighteen (18) undergraduate training programs and seven (7) postgraduate specializations, housed in six Faculties: Theology, Philosophy and Humanities; Administration, Accounting and Finance; Law and Social and Political Sciences; Basic Sciences and Engineering; Education and the recently created Faculty of Health.
Faithful to its philosophy of inclusivity and Catholic inspiration, Unicatólica seeks to give access to young people interested in studying and carrying out their life project, regardless of their religious creed, sex, ethnicity, political affiliation or social origin. Thanks to the implementation of a model of integral formation, initially focused on the spiritual and human formation of the student and, later, on the development of the basic and specific professional skills required by the current demanding world of work, UNICATÓLICA has managed to open a space of transformation of life for many young people who otherwise would not have the opportunity to enter higher education, thus becoming a social project of great impact, not only for students, but for their families and vulnerable communities, to the extent that it transforms the city from pastoral care and education, creating potentialities in them.
Contact email: [email protected]
---
La Fundación Universitaria Católica Lumen Gentium (Unicatólica) es una Institución de educación superior, de utilidad común, sin ánimo de lucro, con personería jurídica otorgada por el Ministerio de Educación Nacional, mediante Resolución No. 944 del 19 de marzo de 1996.
En 1996 monseñor Isaías Duarte Cancino concibió la idea de fundar una institución de educación superior orientada a generar oportunidades de educación superior en los niveles técnico, tecnológico, profesional y posgradual para estudiantes de buen rendimiento académico, que querían iniciar estudios superiores, pero que carecían de condiciones económicas para hacerlo. Este sueño se hizo realidad en 1996, con la creación de la Fundación Universitaria Católica Lumen Gentium (UNICATÓLICA), la cual, siendo fiel a su compromiso con los valores cristianos, define como su misión "formar personas de manera integral, reafirmando su dignidad humana, en la relación con Dios, consigo mismo, con los demás y con el medio ambiente, a través de la generación y difusión del conocimiento, para contribuir al desarrollo de la nación".
25 años después Unicatólica cuenta con cerca de 6.000 estudiantes en dieciocho (18) programas de formación de pregrado y siete (7) especializaciones en posgrado, alojados en seis Facultades: Teología, Filosofía y Humanidades; Administración, Contaduría y Finanzas; Derecho y Ciencias Sociales y Políticas; Ciencias Básicas e Ingenierías; Educación y la recientemente creada Facultad de Salud.
Fiel a su filosofía de inclusividad y de inspiración católica, Unicatólica busca dar acceso a jóvenes interesados en estudiar y realizar su proyecto de vida, independientemente de su credo religioso, sexo, etnia, filiación política u origen social. Gracias a la puesta en marcha de un modelo de formación integral, centrado inicialmente en la formación espiritual y humana del estudiante y, posteriormente,  en el desarrollo de las competencias profesionales básicas y específicas requeridas por el exigente mundo laboral actual, UNICATÓLICA  ha logrado abrir un espacio de transformación de vida para muchos jóvenes que de otra forma no tendrían oportunidad para ingresar a la educación superior, convirtiéndose así en un proyecto social de gran impacto, no solo para los estudiantes, sino para sus familias y comunidades vulnerables, en la medida en que  transforma la ciudad a partir de la pastoral y la educación, creando potencialidades en ellos.
Contact email: [email protected]